Leverage Labour Laws to Nurture Your Workforce Strategically and Enable Organisational Success
ABOUT XLRI
Xavier School of Management (XLRI), the oldest B-school in India, was founded in 1949 by a few visionary Jesuit Fathers to bring a change in the economy and society at large. The institute always strives to be a management school with a difference. Pursuit of academic excellence and fostering whole-person integral growth of students has been the hallmark of XLRI for over six decades. XLRI has earned international accreditation by the Association to Advance Collegiate Schools of Business (AACSB International) and Association of MBAs (AMBA).
XLRI has attained the topmost level 5 (Pioneering Business Schools) among 47 leading Global Business Schools in the second edition of Positive Impact Report 2021. For over seven decades, XLRI has steadfastly held on to its mission of proffering world-class education and ethics-driven teaching while nurturing responsible global leaders for the greater common good and a sustainable future.
PROGRAMME OVERVIEW
The Executive Development Programme in Labour laws for Managers (EDPLLM) integrates the study of Labour Laws with related areas like employment relations, labour market and social policies. The recent time of globalization has brought forth a highly competitive market, which has made the survival of the professionals an arduous job. This programme aims to equip the professionals with the skill set required by modern professionals to effectively operate within the business world. With such skill set and precise contextual knowledge, the professionals can perform better and will be rewarded with the opportunity to distinguish themselves from others.
The programme fundamentally deals with Labour Laws and which fosters solid grasp of legal knowledge and skills, apart from creatively solving problems associated with workers' interests and rights vis-à-vis employers' duties in the area of working conditions, employment conditions, wage, social security and other related aspects of work and employment. The major purpose of the programme is not only to enhance the knowledge of the participants in Labour Laws but to cover all the areas which comes as collaterals but are highly essential for them to learn.
On that note this course includes Constitution and Contract Laws, which enable the managers to confidently operate within the vividly dynamic business world. The programme would provide an in-depth study of Apex Court Judgments relevant to the needs of professionals in the administration of various Labour Laws in their workplace. Through the sessions the participant will learn the right way to read and interpret the law, which is undoubtedly among the vital requirements in resolving industrial and business issues without falling prey to the complex structure of legal framework.
Who is it For
HR Managers / Project Managers / Executives / Legal Managers / Line Managers
CAs, CFAs,Accountants, managing the contractors and contract labourers
Managers handling contract and implementation
Business Owners / Entrepeneurs


WHY YOU SHOULD PURSUE THIS PROGRAMME
The EDPLLM programme would help build capabilities and competencies towards: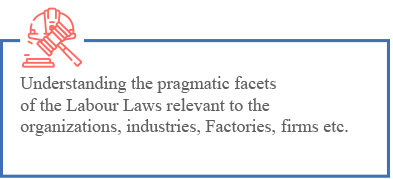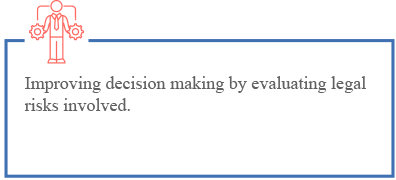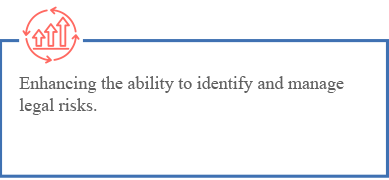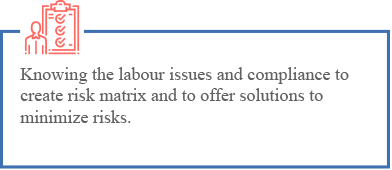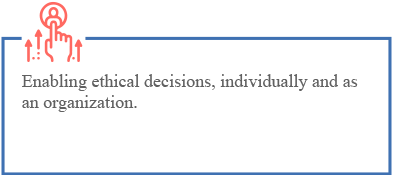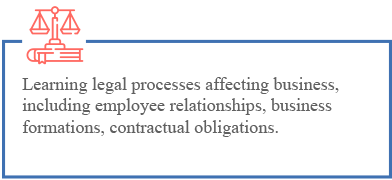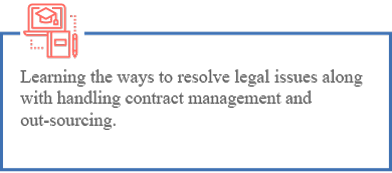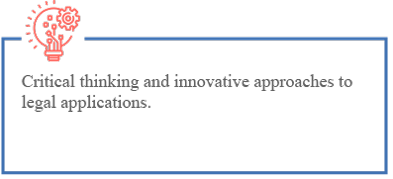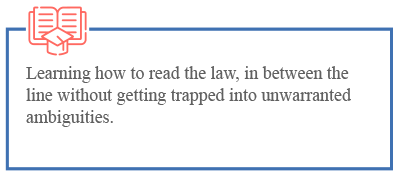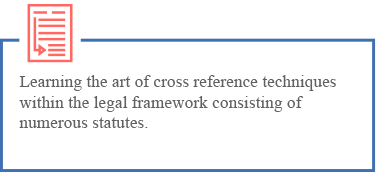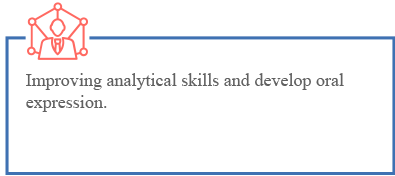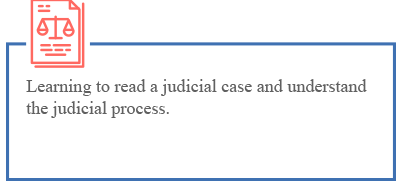 How will this programme help you
By pursuing this program you can expect to -
Gain massive knowledge and expertise in labour, industrial & employment laws
Possess a greater ability to deal with policy and legal issues arising out of labour compliance
Hone your expertise in the critical labour and industrial laws structures
Gain greater skill and confidence in functioning, operating and execution in industrial relations practice
Acquire precise understanding of contemporary perspectives in the existing and upcoming laws
Improve your skill set to interpret the Law in an appropriate way to resolve day to day issues
Note: The Modules/ topics are indicative and the suggested sequence may be modified /adapted by the Programme Directors to suit the total programme hours.


PROGRAMME MENTORS

Prof. P.K Padhi
Read More
Prof. Padhi joined as a Principal in Utkal University Law College in 1994 after completing his LL.B.; LL.M. & Ph.D. in Law. In 2002 he resigned from Utkal University & joined XLRI. To his credit he has published 8 books and published more than 25 articles in national & international journal and visited Dubai, Singapore, Paris. Malaysia, Israel and Hong Kong for teaching and training assignments. Prof. Padhi is a trainer for almost all PSUs namely- NTPC, NPCIL, IOL, DVC, ISRO, RBI, SBI,IOCL, Power Grid, GAIL,ONGC,HAL, NHPC. Prof Padhi conducts 5-Day Training Programme on Labour Laws for all Central Labour Commissioners since 2004. All most all ALC. RLC & Deputy CLC of Govt of India have visited XLRI and stayed for a week for the Training. He conducts open workshops in all metro cities on Contract Management and Contract Labour Management. He also conducts training programmes for Private companies as well like Reliance, Dr.Reddy's, L&T, Sandvik Asia, Microsoft, Accenture, Vodafone & Aircel etc. He also provides consultancy in Labour Management, Labour Compliances, Contract and Contract Labour management to many companies such as Reliance, L&T, Godrej, GRSE, NPCIL, HZL, XL Health etc. He is also an Advisor to HR Federation of India. His areas of interests are Labour Laws & Contract Management.
Prof.Santanu Sarkar
Read More
Prof. Sarkar is currently working in XLRI as Professor of HRM. Before joining XLRI in 2007, he has been a Reader at Tata Institute of Social Sciences (TISS), Mumbai, PMIR over 4 years. He started his career in Industry where he has worked as a Senior Personnel Officer for nearly 2 years. He is a visiting faculty at IIM, Calcutta, IIM Lucknow, IIM Udaipur amongst other institutions. Prof. Sarkar was awarded the Fulbright Nehru Senior Research Fellow at the Industrial and Labour Relations School, Cornell University, Ithaca, NY in 2012-13. He has also been a Eureka Erasmus Mundus Visiting Fellow at the York Management School, University of York, UK during 2009. He was a visiting Professor at Tamkang University in Taipei in 2015 and Ministry of Science and Technology Visiting Scholar at the Institute for Labour Research, National Chengchi University, Taipei during October 2016 and May 2017. His areas of specialization are Labour Laws, Labour Relations, Collective bargaining and Trade Union. He has conducted numerous trainings and Management Development Programmes for HUL, Tata Cummins, L&T, Mahindra and Mahindra, ONGC, HAL, NTPC, BHEL, NPCIL, NHPC, Power Grid Corp, CESC, WBSEDCL, Indian Navy, Indian Railway, besides doing customized program for a mixed group of participants representing a variety of domestic and multinational companies.

Prof. Paramjyot Singh
Read More
Prof. Singh has been associated with XLRI since April 2017. He is a former intern of the National Human Rights Commission, New Delhi. He has worked extensively on the legal issues concerning rehabilitation and resettlement of involuntarily displaced tribal people. He graduated First class First with distinction in History from Utkal University, Odisha. He was awarded the National Merit scholarship and the Professor Ghanashyam Dash Memorial Gold Medal for this distinction. He completed his Masters with specialization in Modern Indian History from the Central University of Hyderabad. He has a Bachelor and Master of Law degree from Utkal University. He was awarded the University Gold Medal for securing the top rank in the University in Master of Law Examination. He has worked as an Advocate at Orissa High Court and was a visiting faculty of Constitutional Law and Human Rights at Utkal university. He was awarded his doctoral degree in Law for his work on the land rights and entitlements of the tribal people of Odisha. Prof Singh was awarded the Fulbright Doctoral and Professional Research Fellowship to pursue research at the Indigenous Law and Policy center, Michigan State University, United States of America. His area of research interest remains Constitutional Law and Labour Legislations, Land Acquisition and R&R in the 5thschedule areas including populations at BOP levels and human rights responsibilities in corporate governance and business conduct.
ELIGIBILITY
For Indian Participants - Graduates (10+2+3) or Diploma Holders (only 10+2+3) from a recognized university (UGC/AICTE/DEC/AIU/State Government) in any discipline and minimum 2 years work experience.


For International Participants - Graduation or equivalent degree from any recognized University with minimum 2 years work experience.


PEDAGOGY
The pedagogy is highly interactive, comprising of case studies, interactive sessions, quiz, assessments, class participation, presentations, project work and class exercises imparted by XLRI's faculty in order to help participants gain the knowledge, understanding, and hands-on skills to immediately apply their learning in the workplace.
PROGRAMME DELIVERY & CAMPUS IMMERSION
Live and interactive classroom sessions will be delivered through Direct to Device (D2D) Mode. Participants are expected to login from their home or office using reliable internet connectivity. There will be a workshop at the XLRI Jamshedpur Campus during the end of the programme subject to government and institute guidelines related to the pandemic. In case the campus module is not organized by XLRI owing to pandemic restrictions, the campus sessions would be conducted through online mode as per schedule decided by XLRI.
EVALUATION METHODOLOGY
Examinations / evaluations shall be conducted by XLRI. Evaluation may include written tests, assignments, online examinations and presentations as announced during the programme.
CERTIFICATION
There are periodic evaluations built in throughout the duration of the course. There will be a Campus Visit at the end of the course, subject to Govt. guidelines around the pandemic and attendance will be compulsory, if the same is arranged.

Participants who successfully complete all the assessments, attend the Campus Visit and meet the requisite attendance criteria will be awarded a certificate of completion by XLRI.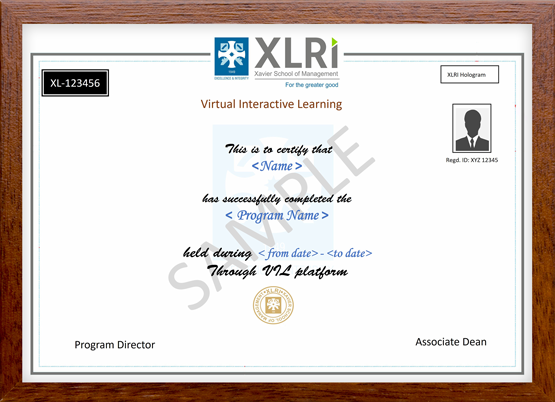 *Note: Certificate image is for reference purpose only and may change at the discretion of XLRI.
PROGRAMME DURATION & SESSION TIMINGS
Programme Duration 6 Months.
Once a week live session (3 hours)
IMPORTANT DATES
To be announced.