Executive Programme in HR Analytics
Hr Analytics Certification Course Highlights
Eligibility: Professionals/graduates with up to 2 years of work experience.
Attend a 2-day campus immersion session at IIM Lucknow.
Round 2 application closes on May 30th, 2023.
Fee: INR 1,60,000 + GST payable in easy instalments with loan option available.
Live online sessions (D2D) every Sunday from 10 am to 1 pm.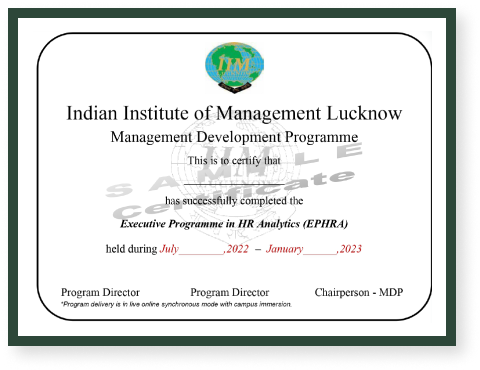 Get the IIM Lucknow Edge
Leverage the rising trend of analytics in HR
HR management's future is all about interpreting data and turning them into valuable insights. IIM Lucknow HR analytics programme gives you the tools and expertise to harness data's power and drive real organisational change.
Learning Outcomes
IIM Lucknow's Executive Programme in HR Analytics (EPHRA)
Learn analytical tools and quantify, analyze and optimise HR-related data.
Break HR stereotypes and implement new-age data-driven HR strategies.
Make better-informed decisions, be cost-effective and drive ROIs.
Improve your people strategies and solve critical employee-related issues efficiently.
Measure HR performance and identify areas for improvement by resourcefully using analytical information.
DOWNLOAD BROCHURE
Curriculum Structure
Introduction
Statistics - I: Descriptive statistics
Statistics - II: Predictive Analytics
Introduction to R
Working with qualitative data
Excel for Analytics
Dashboarding
Basic HR processes - Human Resource Planning
Staffing Analytics
Analytics in Manpower Planning
Training & Development Analytics
Analytics in Performance Management
Engagement Analytics
Social Media Analytics
Career Analytics
Leadership Analytics
Strategic HRM
HR Accounting, Reporting and valuation
Labour Relations
HR Audit
Comprehensive Project
Why should you enrol in EPHRA?
IIM Lucknow's Executive Programme in HR Analytics (EPHRA)
Develop analytical skills and streamline HR policies and strategic decisions of an organisation.
Understand various forms of employee-related data and their contribution to informed decision-making.
Acquire a comprehensive understanding of HR analytics through industry-inclined curriculum, case studies, live corporate examples and general discussions.
Learn from seasoned IIM Lucknow faculty and renowned subject matter experts.
Take advantage of the collective knowledge of a peer group of experienced professionals from different sectors.
Meet Your HR Analytics Programme Directors

Prof. Pavni Kaushiva
Dr. Kaushiva (B.Tech, Ph.D.) completed her FPM in Organizational Behavior from IIM Calcutta. Her primary research interests are gender and diversity in organizations. In her recent work, she examined women's experiences of re-entering private sector organizations in India after a career break. Her research has been presented at various international conferences and published in an international blind peer-reviewed journal of repute.

Prof. Nishant Uppal
Dr. Uppal is a fellow in Management in Organizational Behaviour and HRM from IIM Indore. He is the author of the acclaimed book 'Duryodhanization' published by Penguin Random House India. His other publications include 'HR Analytics' and 'Leadership in Organizations' by Pearson and 'Understanding the Theory and Design of Organizations' by Cengage. His areas of consultancy include organisational change management, diversity management, training and development.
Alumni Speak
<
>
EPHRA has given me hands-on experience with analytical tools to assess and analyse HR data. I handle a lot of number crunching and take quick action to employee queries and recruitment concerns. EPHRA prepares me to confront these challenges head-on and make data-backed decisions in real-world scenarios.
Sheirry Singh
Assistant Manager HR Ernst & Young
I am amazed to see how my perspective has shifted after taking EPHRA. I now take an analytical approach when I look at data related to recruitment, performance appraisal, and employee queries. I have started looking for patterns and trends that can be statistically analysed and addressed.
Rajmani Pandey
Vice President - HR Reliance Jio
I enrolled in EPHRA to learn how to make projections and informed decisions based on data. I have gained an understanding of various data analysis tools, which I can use to reduce costs in my operations. Thanks to these tools, I can now complete tasks that used to take me a day in only an hour.
Shalani Tiwari
Dy. Director - HR & IR Lilavati Hospital and Research Centre
Frequently Asked Questions